The Bible's Jael and French Revolution's Charlotte Corday committing murder has to gone down with some of the most controversial moves in history.  It's hard to say if they did the right thing . To understand why they did what they did, we need to look at the overall picture.
Jael
Barak wanted Deborah to go with him and his troops to face Canaanite army led by Sisera. Deborah agreed and told him, "The Lord shall sell Sisera in the hand of a woman" (Judges 4:9).
When Jael saw Siseria approaching, she acted as a friendly hostess. She welcomed him in her tent, gave him milk and blanket, and made sure he's not disturbed. Then she "took a hammer in her hand, and went softly unto him, and smote the nail into his temples, and fastened into the ground: for he was fast asleep and weary. So he died" (Judges 4:21).
She went out to meet Barak who was no doubt graetful. Thanks to Jael, Israel gained momentum in fighting Canaan.  "God subdued on that day Jabin king of Canaan before the children of Israel. And the hand of the children of Israel prospered, and prevailed against Jabin the king of Canaan, until they had destroyed Jabin king of Canaan" (Judges 4:23-24).
What a wonderful and victorious ending. She killed a key captain making way for Israel to eventually kill the king.
Deborah praised Jael: "Blessed above women shall Jael the wife of Heber the Kenite be, blessed shall she be above women in the tent" (Judges 5:2)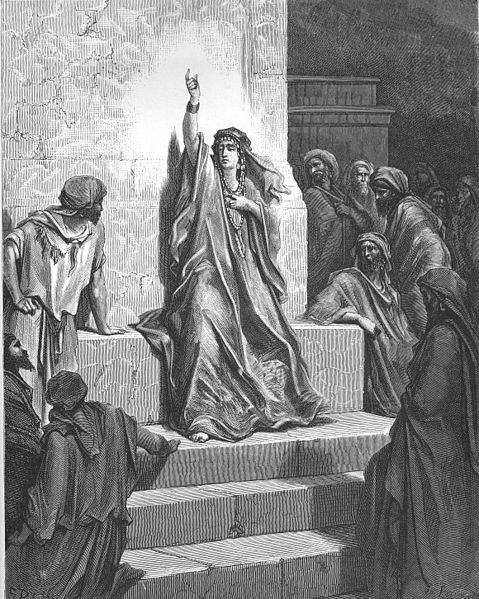 "Deborah Praises Jael" by Gustave Dores
Charlotte Corday
During the French Revolution, a twenty-four-year old gave herself a mission. She planned to kill Jean-Paul Marat.
Charlotte Corday lived in in Normandy. She sympathized with the Girondists, a political group moderates—who were not for an absolute monarchy but didn't like where the revolution was going. She, like other Girondists, were disgusted with the politics of the Jacobins, members of a radical political club, who used terror and violence to wipe out their opponents in the Reign of Terror such as the nobles and Girondists. Jean-Paul Marat, propaganda journalist and one of the Jacobin leaders, played a big role in that and most notably in the mass killings in Paris in 1792 which became known as the September Massacres. That event and the threat of civil war motivated Charlotte to take action and take out such a threat.
Going for the Most Venerable Leader
Without telling her plans to anyone, Charlotte traveled from Normandy to Paris with the intent to kill Marat. As mentioned before, Marat was a leader of the Jacobins, but he wasn't the head leader.  Maximillian de Robespierre led the Reign of Terror. It's been argued if she had to kill someone, it should have been Robespierre. That would have been like going for a king which actually would have made her mission impossible. Like Jael, Charlotte was going to wipe out a captain-figure not a type of king.
You could say both Charlotte and Jael used unorthodox weapons that usually served for every day use. Jael used a hammer and stake, and Charlotte used a six-inch blade kitchen knife she bought when she got to Paris .
Charlotte planned to kill Marat in front of the National Convention.  Due to illnesses, he was unable to make public appearances. He had developed a skin disorder probably from hiding in sewers. Charlotte found out he was staying with his wife Simone.  The first two times Charlotte went to the apartment, Simone turned her away. Charlotte claimed to have a list of Girondists that were plotting an uprising. On her third attempt, Marat wanted to speak with her.
Marat's skin condition was so serious he did his work from the bathtub. As he wrote down the names, he was unaware that he was in such a vulnerable state. Charlotte stabbed him in the chest. He yelled to Simonne, and then he died. This was followed by a huge uproar and the arrest of Charlotte Corday on July 13, 1793.
Triumph?
Charlotte didn't meet the same triumph as Jael. When Charlotte was tried, she was asked why she killed Marat.  She said she did it to save thousands. This answer had reflected Robespierre's reaction to executing Louis XVI. Four days after killing Marat, Charlotte's head went on the scaffold.
Did Charlotte Corday fail in her mission? It's hard to say. She didn't get the immediate praise Jael got for killing, but she made an immediate impact. One witness at her execution named Pierre Notelet said, "Her beautiful face was so calm, that one would have said she was a statue. Behind her, young girls held each other's hands as they danced. For eight days I was in love with Charlotte Corday."
Adam Lux, another witness, was so impressed with Charlotte Corday, he published pamphlets that deemed Charlotte's actions justified and for freedom. He was also executed. I believe this shows that people got thinking who the actual enemy of was. It wasn't pro-monarchs or true republicans. Those in power during the Reign of Terror didn't have the French citizens' best interests in mind. They were dictators who used sources, like the press, to deceive and threaten the people. There were those like Charlotte Corday who called them out.  A year after Charlotte's death, those who corrupted the government also had a date with Madame Guillotine, including Robespierre.
Charlotte Corday went on to influence others with her patriotic zeal. Writer Alphonse de Lamartine nicknamed her the "angel of assassination" in his 1847 book Histoire des Girondins.
In 1860, France was on the road to a republic that Charlotte had desired. The Jacques-Louis David's 1793 painting portraying Marat as a martyr that the Jacobins used as propaganda was literally painted at a different angle. In Paul-Jacques-Aimé Baudr's 1860 painting, Corday is portrayed as the heroine.
The Verdict
Did Jael do the right thing? Was Charlotte's act justifiable?
I have studied the biblical text more and the Reign of Terror closer in order to come to a verdict. I've also considered the circumstances of war in their cases. I will not be a judge in the final judgement, but I've made my personal conclusions,
Jael: By killing the captain of the opposing army, Israel was able to win the battle and the war. She protected a nation by weakening the enemy. Verdict: Not guilty. Heroine.
Charlotte: Murdering a journalist responsible for massacres. It looked like she lost the battle, but her sacrifice was a necessary loss to win the war in finding freedom. She identified France's true enemies. Verdict: Not guilty. Heroine.
Do you agree with my verdicts?  The situations are in gray areas. I see these two women acting for their great good their country. One lived to see victorious results, and the other died before she could witness the enemies' downfalls.
Helpful information from
The Bible
wikipedia.com
alstewart.com 
 Images from
http://madameguillotine.org.uk
http://commons.wikimedia.org/