Hands down I agree with the article by Cokie Roberts about how Elizabeth Hamilton–not her husband Alexander–should be on the $10  bill.
Now I don't totally hate Alexander Hamilton—I mean he's a founding father. I did a report on him in eighth grade and got a good grade but was weirded-out by his personal life. Then years later, a musical about the man comes out. It made me research him again—and nope—my feelings for him hadn't changed. While I was on Wikipedia, of course I had to click on his spouse's name: "Elizabeth Schuyler."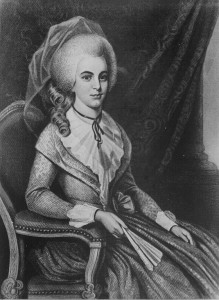 I was shocked.
"Ninety-seven? Ninety-seven. NINETY-SEVEN!" I couldn't believe it. I told my roommate who listened patiently to how I can't stand Alexander Hamilton but that his wife, Elizabeth, was extraordinary.
Martha Washington said, "She was always my ideal of a true woman." In Alexander Hamilton's farewell note he closed with calling Elizabeth "Best of wives and best of women."
How did she make it to ninety-seven? Well, she and her sisters had been savvy in preserving themselves through the Revolutionary War. She proved she had a survival instinct. She was active. She was forgiving and loving. She had a purpose.
While preserving her husband's memory (through gathering his papers and shutting down negative comments about him), she also had to pay his debts (was Alexander really qualified to be Secretary of the Treasury? Um…no!) and auction off their house . Miraculously, she was able to repurchase it. So who's the real treasurer? (She had even helped him  draft his financial plans!) She was the brains. Elizabeth also founded the first orphanage in New York (plus she also took in orphans into her personal home) and helped Dolley Madison raise money for the Washington Monument.
Elizabeth died fifty years after her husband. She was a survivor, but I further believe she had a divine mission to accomplish.
She greatly contributed to having her husband—and the other men who founded the United States Constitution as well as the document itself—being remembered and revered.
Images:
Paintings: Elizabeth Schuyler Hamilton by Ralph Earl