From her diaries and letters concerning her, Olga was thought to have the best idea out of her family of their eventual fate. Toward the end of her life, she was aloof and very depressed. She spent a lot of time with her ill brother, Alexei,  and in her own thoughts. This last photograph of her with her brother on their last train ride speaks thousands of words: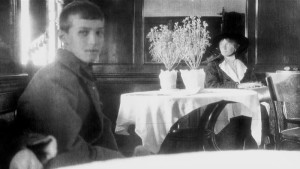 It brings up many questions. And Olga often asked many questions. I believe she naturally searched for truth.
Truth by O
What is truth?
Pilate's timeless questions
Is well-worth to mention.
Often, truth is in front of us
Which we try to ignore,
Wash , and spill our guilt to the floor.
We can all spout off a list
Of who's the one to blame
And then read our owns names with shame.
Every person in this house
Must ask themselves what is true
And decide what they're going to do.
We are accountable
To search for the facts
And then our following acts.
Wherefore, we must all answer to—
What is truth?
Poem © Sarah Patten