Beliefs and Speculations
I believe that Jesus is the Son of God, and that he came to earth to save it. He was born of a virgin in humble circumstances. That's the one of the most important things in this post.
It is interesting when people present theories concerning the Savior's birth and early childhood. Like—were there actually "three" wise men? Was Jesus really born in a stable?  Was it a cave? Maybe it was a barn. A more reasonable or scholarly interpretation is that Mary and Joseph stayed at crowded relative's house in a left over room. Were there animals around? Perhaps.
The Bible does say Jesus was born in a manger, and so I definitely believe that.
But could animals have truly been nearby? The animal concept has got to me this year.  My best friend, my dog Angel, passed away in November. This day—Christmas Eve day—twelve years ago, my family and I got baby Angel. She was the best Christmas present ever.
This season I was introduced to a sweet song.–Alison Krauss and Alan Jackson's "When the Angels Cried." The most memorable lyrics: "And the creatures gathered round and didn't make a sound. And the angels cried." Now, I don't know if the animals were hovering over a newborn (don't want to scare him for life!), but I know what Angel would have done had she been close enough to see Jesus. She would get as close as she could. A certain story relating to Angel and babies sticks out in my mind.
Angel and Baby
One of my favorite memories of Angel occurred this last summer. Just in the backyard. I had a blanket on the lawn and was enjoying my relaxation under the shade. The dogs had already greeted me when I came out and then went to different areas of the yard. That all changed, though, when my brother came outside carrying his baby girl.
He sat down on the blanket with the baby on his lap. Just in a matter of seconds, I noticed Angel, who was chilling on the patio , get up immediately when she saw the little one. Her eyes seemed to say, "Baby!" She rushed over to see the baby and beat the younger dog. Both gave kisses. Angel then rested on an empty spot on the blanket. My mom came outside and sat by Angel. It was a tender moment and one of the best breaks for a keep going summer.
Really, I can't convey the peace and enjoyment when I saw the two dogs racing to see a baby.
So now I don't want to jump to any conclusions, but Mary and Joseph had to have some contact with animals sometime in Bethlehem, and I bet the animals were as in awe of the newborn as the shepherds and angels! (And remember I once asked—who said that an angel has to be a human?)
It might sound so ridiculous, but I know had Angel been an animal who saw the baby Jesus, she would have passed up humans and animals alike to see Him
It feels weird without my Angel this Christmas season. She's never far from my mind.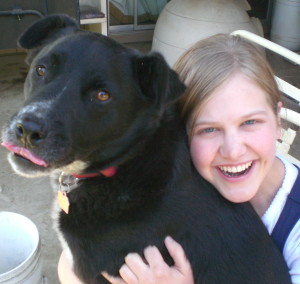 She feels really close as I look at babies and see paintings of the manger scenes.
Images:
The Nativity by Eleanor Fortescue-Brickdale
Photographs courtesy of Douglas Patten