Before Michal returned to David, she probably had some sort of knowledge that David took on more wives. Perhaps Abner filled her in on more details on their way to Hebron. Accepting or not, nothing could have fully prepared her to be in the presense of his other families.
David's wives are  obviously one of the hurtful aspects of her return. They had children which gave their positions a boost. It would have been humiliating if she was asked to acknowledge the wives and recognize their children as David's heirs.
Reactions of Royal Women
Traditionally, royal women have been expected to turn a blind eye to their husbands' other lovers. Some were forced into associating with them. And it's typical for the strong ones to take a stand. Here are some examples.
Catherine of Aragon
Catherine of Aragon usually turned a blind eye to her husband's affairs, but there were times she felt it necessary to stand up to him which shocked him. Even before Anne Boleyn, she showed disapproval when Henry recognized a illegitimate son at court. That mistress was dismissed. When the Anne Boleyn burden did arise, Catherine would always consider herself to be the king's true wife and called herself "Queen" till her death.
Anne Boleyn
Anne Boleyn lashed out more than Catherine  about Henry's affairs. With the assistance of her family, she made sure one of his mysterious mistresses didn't return to court. I'm not a fan of her, but I think she was showed the dignity of a queen when she went to the executioner's block.
Catherine of Braganza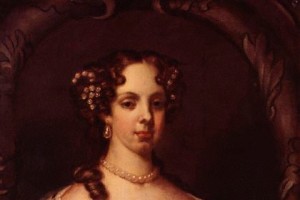 Before Catherine of Braganza married Charles II, she was informed of his affairs. She was also advised not let his head mistress into her presence.  But when that did happen, she got a bloody nose and fainted.   She improved restraining herself from making scenes in public. Once in a while, the mistresses made good allies, which put her more in favor with her husband. She even was on good terms with the mistresses' children but never acknowledged them as his heirs.  She stayed queen consort and her husband asked for her forgiveness on his deathbed.
Problems With Approved Polygamy
I have not forgotten about how David's marriages were approved by God at this time. That would have presented unique challenges and made it more difficult. Even the most righteous women in the Bible struggled with their husbands having other wives and concubines which bore them children.
Rachel and Leah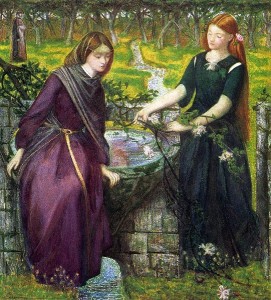 Childen made a woman more valuable in ancient Israel. Leah thought Jacob would love her when she bore him sons. Then there's younger sister Rachel, who's barren but still Jacob's true love. Rachel desired children so badly. When Rachel asked Leah for mandrakes (considered a fertility drug), Leah said, "Is it enough you have stolen my husband?" (Genesis 30:15)
Who did Michal relate to most in this case? Did she feel like the other wives stole David? Could she also have wanted children more than anything? Leah and Rachel's stories both have a somewhat satisfying ending. Rachel bore Jacob his favorite sons, and Jacob requested to be buried with Leah. It seems non-royal families have a better chance at happy endings than royal ones.
Hannah and Peninnah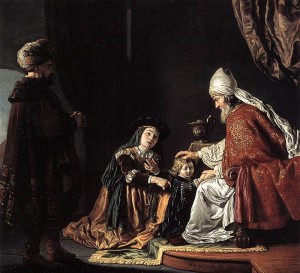 The prophet Samuel was the product of a woman with great faith who had been barren for years. Hannah felt low as her husband's other wife , Peninnah, produced many children, yet her husband, Elkanah "loved Hannah" (1 Samuel 5) and tried to comfort her "Why is thy heart grieved? Am not I better to thee than ten sons?" (1 Samuel 1:8) Through Hannah's faith she eventually conceived a great prophet and other children followed. Maybe David attempted to reassure her with love but there's the question if David even wanted to have children with Michal due to a desire to prevent Saul's descendants from inheriting the throne. With all his other wives, it was easy to avoid her. There wasn't that much communication.  Also, the rulers that married off their daughters to David might be suspicious if he gave the daughter of a rival king (even if he was dead) more attention.
Sarah and Hagar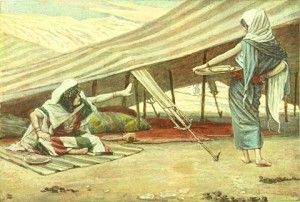 According to Sarah, Hagar disrespected her: "She had conceived, I was despised in her eyes." (Genesis 16: 5)Abraham let Sarah "do to her [Hagar] as it pleaseth thee." Sarah might have been too harsh as Hagar ran away. Hagar she was still promised posterity, But it was Sarah who eventually bore Abraham's son of the covenant. She was concerned that people would think Hagar's son, Ishmael, was Abraham's heir and not her son, Isaac. Sarah advised Abraham, "Cast out this bondwoman and her son; for the son of this bondwoman shall not be heir with my son, even Isaac." (Genesis 21:10) Abraham took his what his wife said to heart and asked the Lord what he should do. The Lord agreed with Sarah, and the next morning, he sent Hagar and Ishmael off with sufficient supplies. (Genesis 21:11-14).
Sarah's request was granted but royal women don't always have the opportunities. Sometimes  king's mistresses do fall out of favor much to his queen's delight. Since many of David's wives were prominent women, the chances of sending them away were slim. Michal was the first wife but had little power to pull off something like Sarah. If David sent away another wife who was the daughter of a king, alliances would be broken which would present problems such as the threat of war. The most powerful members in Michal's family were dead. Yet, some of his wives were low born. Michal might have considered them bondwomen like Sarah saw Hagar.
The Ticking Time Bomb
Michal survived Hebron. But when the royal family changed their residence to Jerusalem, things became shakier.2 Samuel 5:13 practically yells Michal had a problem with the move and David's further actions:
"And David took him more concubines and wives out of Jerusalem, after he was come from Hebron"
So David had more children, wives, and concubines. This was bound to create more conflict and competition among the other wives too (2 Samuel 5:13-16). Who knows if she and the other wives conspired with or against each other Maybe Michal felt she had more power over the concubines, but was getting the impression she held little value to David. This was the perfect setup for he next chapter–their public spat after a controversial celebration. David taking on more wives, concubines, and having children was traumatic and contributed to that fight. There might have been individual incidences that left Michal shaken. I wouldn't have been in the mood to celebrate.
Sources:
Catherine of Aragon: The Spanish Queen by Giles Tremlett
The Anne Boleyn Collection II by Claire Riidgeway
Jane Boleyn: The True Story of the Infamous Lady Rochford by Julia Fox
"Keeping Up Appearances: Catherine of Braganza, Charles II's Underestimated Wife" by Sarah Patten
Genesis 16, 21, 20
1 Samuel 1
2 Samuel 5
Images:
Catherine of Aragon  by Michael Sittow
Anne Boleyn portrait
Catherine of Braganza  Jacob Huysmans
Dante's Vision of Rachel and Leah by Gabriel Charles
Hannah Giving Her son Samuel to the Priest by Jan Victors
Sarai Sends Hagar Away by James Tissot