Sadly, it's sometimes  better to be seen than heard when you're in situations like Michal.  Men get off easier if they say something similar.
Paintings, photographs, and just visual appearances at public events can be more effective than words if princesses want to make a point.
But sometimes, you can't help yourself…
Here are some notable examples.
Princess Diana and BBC's Panorama Interview
Princess Diana decided she could outdo her husband, Prince Charles, again after he gave a televised interview in which he admitted to adultery. Other people were getting to her too. The pressures, anger, and frustrations of Diana were enough for her to agree to BBC to interview her. She secretly set up an interview with Martin Bashir. She had her staff take the night off.
It was the evening of November 5. In England that happens to be Guy Fawkes Night. November 5, 1605 was when Guy Fawkes, who planned to blow up Parliament (which included the King), was caught. People celebrate Fawkes' capture with fireworks. Little did people know that on November 5, 1995, there was treason and a different kind of fireworks going off. Diana spoke out against her husband, the monarchy, and other people who she felt betrayed her. She reflected how much she loved her husband—yet at the same time she wasn't showing much love.
At first she felt good about it, but later regretted it. The Queen asked she and Charles get a hasty divorce very soon afterwards.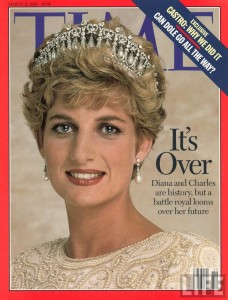 Their son William was reportedly extremely upset by it. Some people left her service including her secretary Patrick Jephson. In a special called "Behind the Panorama" he posed the question of why people in the public eye "feel the need" to do things in public.
The question is as true today as it was in the Bible.
Queen Sophia Magdalena's Scene at the Opera
When Danish princess Sophia Magdalena arrived in Sweden in 1766 to marry Prince Gustav, he and the rest of the Swedish people seemed happy. Their relationship was strained due to gossip. She was more introverted and came off as cold.  Her mother-in-law, Louisa Ulrika, smeared her image right from the beginning.
When Gustav became King and Sophia became Queen, rumors about their personal relationship and political activities grew worse. When Sophia heard that Gustav planned to take away their son away from her, she made a public scene at the opera. She went to his box and confronted him about it. A verbal fight broke out between the two. Before she left, she said, "I will have my vengeance monsieur! I give you my sacred vow on that!"
Could this fight have waited? Perhaps she felt the urgency and maybe it was one of the only times she could talk to him. I think it was only a matter of time before everything just blew up.
Daughter of Saul
When you first read 2 Samuel 6, it's like, what? Where did that can from?
Remember Michal was dropped from the narrative for a while but was behind the scenes. After we know more of what she went through and learn why and about how other royal women similary took (and still take) a stand publicly, it totally makes sense. Truthfully, I would have been more surprised if Michal had not put up a public fight.
Sources:
"Princess Diana: Behind the Panorama Interview" Documentary
"Princess Diana 'regretted' Panorama interview"taken  fro m The Telegraph article  by Richard Alley, 15 Dec 2007
http://www.telegraph.co.uk/news/uknews/1572605/Princess-Diana-regretted-Panorama-interview.html
Princess Sophia Magdalena of Debmakre Wikipedia page
Ensam drottning. Sofia Magdalena 1783-1813. [Lonely Queen. Sophia Magdalena 1782-1813] by Gerd Ribbing
Images:
TIME cover Mar 11-1996 Princess Diana.  Posted by manhhai at https://www.flickr.com/photos/13476480@N07/8499071865