Who said angels have to be people?
This post is dedicated to Angel on her birthday.
 An Unexpected Gift
Christmas Eve day in 2004 was a very special day. I was slow getting ready, and I believe I was staring at the Christmas tree when the phone rang. My older brother answered it and then quickly hung up.
"There's a lab at Save Mart who needs a new home!"
With that, my family and I went from lazy to rushing to meet up with my mom.
When my family met up with Mom, she was with a mother and two little girls holding a black puppy.
A puppy?
I wanted a young adult dog. But my expectations changed as we took turns holding her.
We quickly found out she was named after her mother Angel. She was most likely part Labrador Retriever and Australian Shepherd. She had been born September 22. My family had fallen in love. Mom paid the previous owners, and we carried a very scared puppy home.
Angel hardly moved, wouldn't eat, and ignored us when we got home. We had her rest in my  brothers' room. I was in the hall trying to get her out. I gently talked to her. She would start approaching me and then go back in the room. Then she finally came and curled up in my lap.
Best Friend
Angel's eyes show compassion when she knows you're sad, and so she sits with you. She use to jump around when she could tell you were happy. She prefers sitting down now and wagging her tail. My dogs have always tried to make people happy.
As I mentioned before, Angel was very shy when we were brought her home. Her shyness was one of the probable reasons why she was the last pup of the litter to find a home. I had just returned from school and taking the winter off. Most of my friends were out of town going to college, and my family had their busy lives. I worked some, but I was basically alone. I think that's why Angel and I became so close.
Angel's Other Friends
Though socially awkward, Angel had a chance friendship with two dogs behind our yard. People love to see her. She's come out of her shell. One person who broke through to her was a five-year-old girl. She's thirteen now and is kind of like a second owner to Angel and my other dog. Angels also loves the girl's little sister. Angel opens up more quickly to people she senses have gentle souls. She especially adores little children and babies.
Angel has aged quite a bit now. I don't know how long she has to live. But she has had a good life. One individual that kept Angel going and probably preserved her life is our very energetic Australian Shepherd, Zane. He makes sure she gets plenty of exercise!
And of course, my parents. Angel has a harder time being around men, but she loves my dad. Angel really loves my mom.
I'm not there to take care of Angel, but I can rely on my mom to take care of the dogs.
And that is not always easy. The dogs are mischievous and have a new—and delicious— diet because of Angel's special needs.
Angel easily makes me happy. I don't want to sound cheesy, but I believe Angel was sent from above.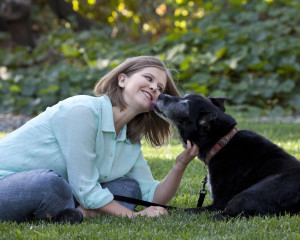 Happy birthday, Angel!