Thanks to Sarah-Beth Watkins' Catherine of Braganza: Charles II's Restoration Queen, we finally get a solid biography of the Portuguese princess turned queen of England.
As the title suggests, this biography mainly concentrates on Catherine's years as queen consort to Charles II. However, Watkins does nicely provide a rare glimpse of Catherine's life before her marriage and after the death of Charles II.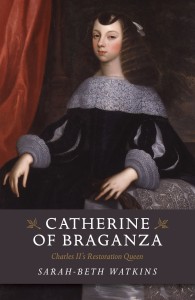 Whether it was the beginning, middle, or ending of Catherine's story, a reoccurring theme is the difficulties of being a princess and a queen. Through good storytelling, this biography gives information about what real life is like for royal women. They constantly get judged publicly, have obligations to follow, and have to pick and choose their battles carefully. Watkins gives the valuable insight: "A princess, and often a queen, must do as she was told."
A common hardship being married to a king is often his affairs. Catherine goes down in English history as a tragic queen who had to deal with a husband who womanized a lot. Far too often, though, I read books and blogs that describe Catherine being "desperately in love" with her unfaithful husband. Watkins doesn't jump to that conclusion. Instead, she gives us stories in which show the tension and tenderness between Catherine and Charles. We also get more details of what Catherine did away from the royal court and Charles.
Catherine of Braganza: Charles II's Restoration Queen is a valuable read. The more you get to know this queen, the more you agree with the observation of Minette, Charles II's sister, about Catherine: "It is impossible not to love her."